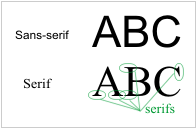 sans-serif
Sans-serif literally means "without serif", referring to font types that do not have serifs at their ends. See illustration to the right.

Also see serif
Sentence case refers to a form of capitalization where only the first letter of a sentence is capitalized. Compare for instance "title case" where the first letter of every word is capitalized, regardless of it position in the sentence or phrase.
A font type that includes serifs at some or all of the end points of the letters. For a more detailed look see sans-serif and the accompanying illustration.

Also see sans-serif
service mark
A service mark is similar to a trademark in every respect, except in that it denotes a mark or logo associated with a service as opposed to with a product. A service mark is indicated by the letters SM, usually to the right of the logo, image or phrase, while a trademark is indicated with the letters TM.
shadow
With reference to logo design the term shadow refers to either a directional or a cast shadow that forms part of the logo design. It is in other words not an actual shadow but a shadow effect drawn into the logo. While the use of shadows may improve a logo, most designers would caution against using a shadow unless it forms an integral part of the design.
shelf logo
A logo that was created beforehand and that is offered for sale. Shelf logos are normally once-off designs and are not resold.

Also see pre-designed logos

ShelfLogos

Founded in 2008 by design firm Graphics Factory CC, ShelfLogos was first to use the term shelf logos to refer to pre- designed logos. Similar to the concept of "shelf companies", shelf logos are created beforehand and offered for sale.


While the shelf logos offered on the ShelfLogos web site are not resold, logo shoppers are cautioned to not assume that all "shelf logo" vendors offer exclusive ownership.


The ShelfLogos claim to fame is that their shelf logo inventory is the spill-over from custom logos created by professional logo designers. In short this means that the quality of their <$100 logos is on a par with logos that would normally cost hundreds or thousands of dollars.


Also see pre-designed logos


Further Reading:
ShelfLogos; http://www.shelflogos.com/

slogan
In logo design the term slogan refers to a catch phrase displayed with the logo, usually below the company name. For example, the Nike slogan is "Just do it". Many smaller companies opt to use the slogan space below the logo for pertinent information such as a short summary of services, a toll-free number or a web site address.

small caps
Small caps is a type of capitalization that uses only uppercase letters. Letters typed as uppercase are slightly larger than letters typed as lowercase.

solid fill
A solid fill describes an area of filled color where the fill color is consistent and even across the entire surface. In the illustration to the right, the top rectangle shows a solid fill while the bottom rectangle shows a gradient fill.
spot color
With reference to logo design the term spot color refers to a single ink (pure or mixed). If a logo uses one spot color it means that that logo can be printed in a single run. The terms spot color and Pantone color is sometimes used interchangably, but in reality Pantone is a system for matching spot colors.

stationery design
Stationery design is a collective name for business card design, letterhead design, envelope design etc. Any branded materials used by the company can be referred to as company stationery. Logo designers would typically start with a logo and once the client accepts the logo the business stationery is designed to include the logo and in a style that matches or compliments the logo.

swoosh
In logo design the term swoosh refers to a shape that normally consists of a curve with two sharp points at either end. The most famous and original swoosh is the Nike swoosh.

More swoosh logos: http://www.biz-logo.com/pre-designed-cat05.shtml